September 3, 2012
Semisonic at the MN State Fair, Photos, Thoughts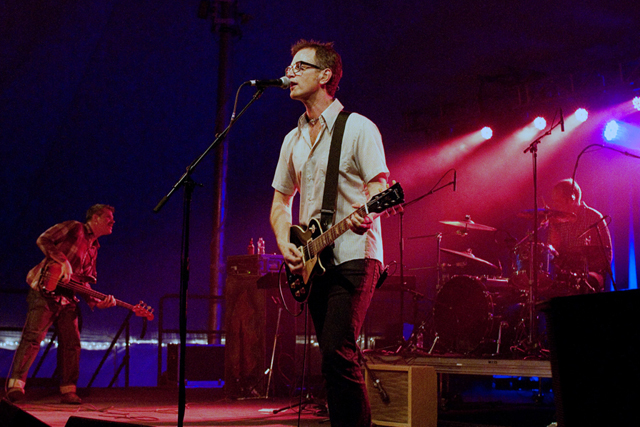 Click here for a photo slide show. This photo by Emmy Sherman.
We came, we played, we swooned. John Munson, Jake Slichter, Ken Chastain and I have played most of the Semisonic shows of the last ten years or so as a four-piece, Ken adding his amazing percussion grooves and a sturdy hand with the odd hunt and peck piano riff. But two nights ago we were joined onstage by a flotilla of MN musicians, all of whom added some swoon-factor to the proceedings. First of all, the Laurels String Quartet brought their elegant and dreamy tones to the stage for "Secret Smile," four songs in, and they stayed with us to the end with only a few breaks. Then the swoonable Jeremy Messersmith, who had rocked the crowd earlier with a great set including soon-to-be-classic new song "It's Only Dancing," and his producer/drummer/keyboardist/co-conspirator Andy Thompson came up for an epic vision of Semisonic's "I Wish." That's a song from "All About Chemistry" that I've always loved, the majesty of which (in my humble opinion,) we've never captured onstage. Until Friday. Took ten people playing at once, but we did it.
As if that weren't enough, we had to end the night, which was a Minnesota music-themed event, with guests from all the bands on the bill, (aside from the Jayhawks, who had to leave right after their set for more pressing engagements,) helping out. The task at hand was a huge version of Prince's "Little Red Corvette," the verses of which we apportioned thus: V1 – Jeremy and me in unison; V2a – Jeremy and me once again in unison; V2b – Lucy Michelle, very sassy; V3 – Dessa, sassy as well with an extra dash of "I need a note from my parents saying I'm old enough to sing these nasty metaphors." I personally was swooning over Dessa's tight black jeans and black leather boots. Yow. And all of us, me, John Munson, Jeremy, Lucy, Dessa, Aby Wolf singing the choruses in glorious parallel (too parallel according to Jake Slichter) harmony.
The blue moon still floating above the grandstand, we on the stage turned to watch the amazing fireworks behind us.
——
A few words about the show from Chris Reimenschneider of the Minneapolis Star Tribune:
http://www.startribune.com/entertainment/music/168230966.html
also
http://www.startribune.com/entertainment/blogs/168242506.html