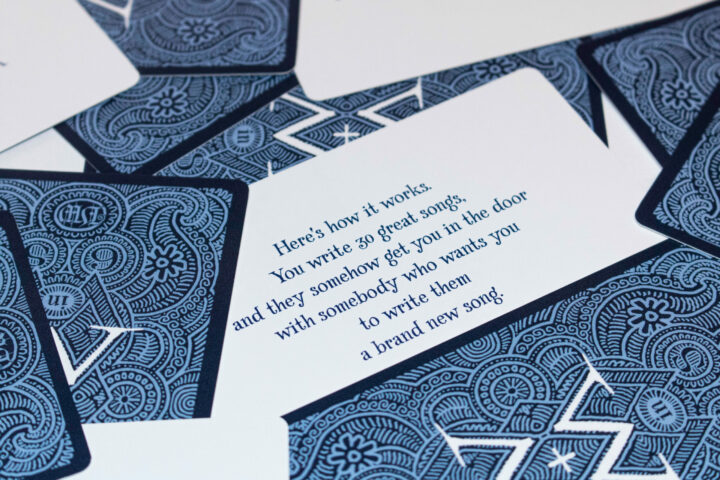 I'm really excited to announce this: The Words + Music in 6 Seconds deck!
I've collected the best of my social media advice clips into a compact and beautiful deck of cards, designed to be a creative tool for songwriters, musicians, and producers, as well as people in other creative fields.
September 22, 2020
The new Semisonic EP, "You're Not Alone," is now out! Being in this band with John Munson and Jake Slichter is an ongoing high point of my musical life. We've been all over the world together and we still love to hang out. What more could I ask for? I'm so happy about how these songs turned out. I felt like they HAD TO be great – and now you can be the judge of whether they are :) (Go ahead and let me know if I'm following my own advice or not…) We got a lot of help along the way but special shout out to Jenny Owen Youngs, Mike Viola and Richard Walters for writing some of the songs with me! Stream/buy here.
July 31, 2020
I feel that in each of our lives, there is the possibility of meeting that one person who will change the way we see everything, a person who will give us a sense of new meaning, a mission, a passion. "All it Would Take" is our song for that moment, that person, that one voice that can change the world within you. Then you can turn outward and begin to change the world around you, too.
Listen/Buy 'All It Would Take'
Watch the lyric video on VEVO for 'All It Would Take'
Pre-save the new EP, out this fall
June 26, 2020
I wrote 'You're Not Alone' a couple of years ago at a time when a lot of people, including me, were feeling isolated and despairing about the state of the world and the direction our country was going. We recorded the song last year and I'm really happy that it's now coming out. It's Semisonic's first new song in 20 years. Coincidentally, the song is coming out when both a global pandemic and racial justice protests are compelling us to reimagine and rebuild our relationships to each other and the communities we live in. All against a backdrop of isolation, despair, and hope. Just as I felt when I first wrote it, I hope this song will communicate a sense of connection, an awareness that we're not alone.
Listen/Buy 'You're Not Alone'
Pre-save the new EP, out this fall
May 24, 2020
Here's my new single, "Try Love." Nobody needs to be pitched on trying love, we try it again and again, no matter how rough it gets. Still, like the song says, if you really want to go through a lot, you can always try love. Listen here.
April 24, 2020
I wrote 'The Real Question' two weeks ago when the strangeness and the dread of our self-quarantine was sinking in. Even as we were all sharing the same scary short-term fears about the epidemic, I also was thinking, 'What happens if we make it through this? How will our lives be changed? How will my life be changed? Will a lot of us feel the impulse to renew or revise our agreements with lovers, family, community, country?' In some ways I hope so. So I wrote this song about those questions. Watch the lyric video on my YouTube channel.
View More Posts