April 14, 2013
"The Gift" by Lewis Hyde, and the artist as part of a "gift economy."
Thank you Catherine Forsman for a comment on one of my posts (about the people who don't want to pay artists and don't want anyone else to pay them, either.) I was happy you mentioned one of my favorite books, "The Gift."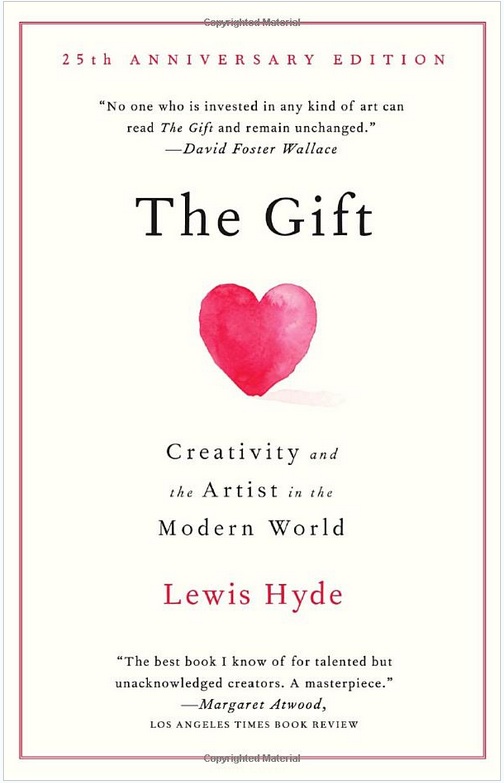 In "The Gift," author Lewis Hyde makes an amazing case for re-thinking our ideas about buying and selling art, especially art that can be copied (books, CD's, posters, etc.) I think Hyde is saying that some amount of getting paid for a copy of a creative artwork is appropriate, since we all have an interest in authors and inventors being rewarded for their ideas and inventions. But he doesn't seem to think that you should get paid for it forever, nor that your heirs should be able to get paid for it forever, either.
I understand that word "commodification" to some degree, but I think it's used too loosely when it comes to a lot of artists' work. Artists who make a 3-minute song, or a 300-page novel, or a painting that hangs on a wall, no matter how mindblowing and great, are already thinking about bringing these artworks to market. Why else would they work within an established form? They're not getting "commodified" against their will – they're hoping someone will buy their stuff so they can pay the bills and make more stuff. And maybe over time they can also help to re-invent the form, and hopefully people will pay for that too, so the artist can pay the bills and go back to work and make more stuff.
On the other hand… One reason I keep having to re-visit "The Gift" is its emphasis on thinking of artistic creation as part of a "gift economy." Hyde urges the artist to think of artistic ideas, inspirations and ability as gifts coming from beyond them, part of a continuity through time and other artists; and Hyde urges them to consider their artwork as being essentially a gift to the world. And then the reward coming back from the world is not part of a transaction for the artwork, but more like a gift of gratitude from the world back to the artist.
I love this idea, and yet because I'm a 21st century American, I can only understand/believe it by returning to it over and over, and reviewing the arguments in the book. It's really influenced my thinking a lot.
Somebody read the book for me and let me know if you found the ideas within it easy!
Meanwhile, speaking of a gift economy, for the last few weeks and for the coming months I've been giving away my favorite unreleased songs and tracks to the folks on my e-mailing list. The series is called "Songs from the Ballroom," named after my recording space. I think the idea for doing it partly came from my desire to get more deeply involved in Lewis Hyde's model "gift economy" – to see what it feels like more directly. And so far it feels great! Click on the link above and to the right and you'll see more.